Mommy Makeover
After pregnancy, childbirth, and breastfeeding, many women feel their breasts and bodies are in need of repair. While breast enhancement surgery and body contouring are effective solutions, addressing multiple concerns separately requires repeated recovery, expense, and exposure to anesthesia. At UVA Plastic Surgery, our experienced plastic surgeons can safely combine cosmetic surgery procedures to provide a complete result with a mommy makeover. In Charlottesville and Fishersville, the women who choose our world-class team of plastic surgeons can be confident about their safety and the quality of their results.
Mommy Makeover
Before & After Photos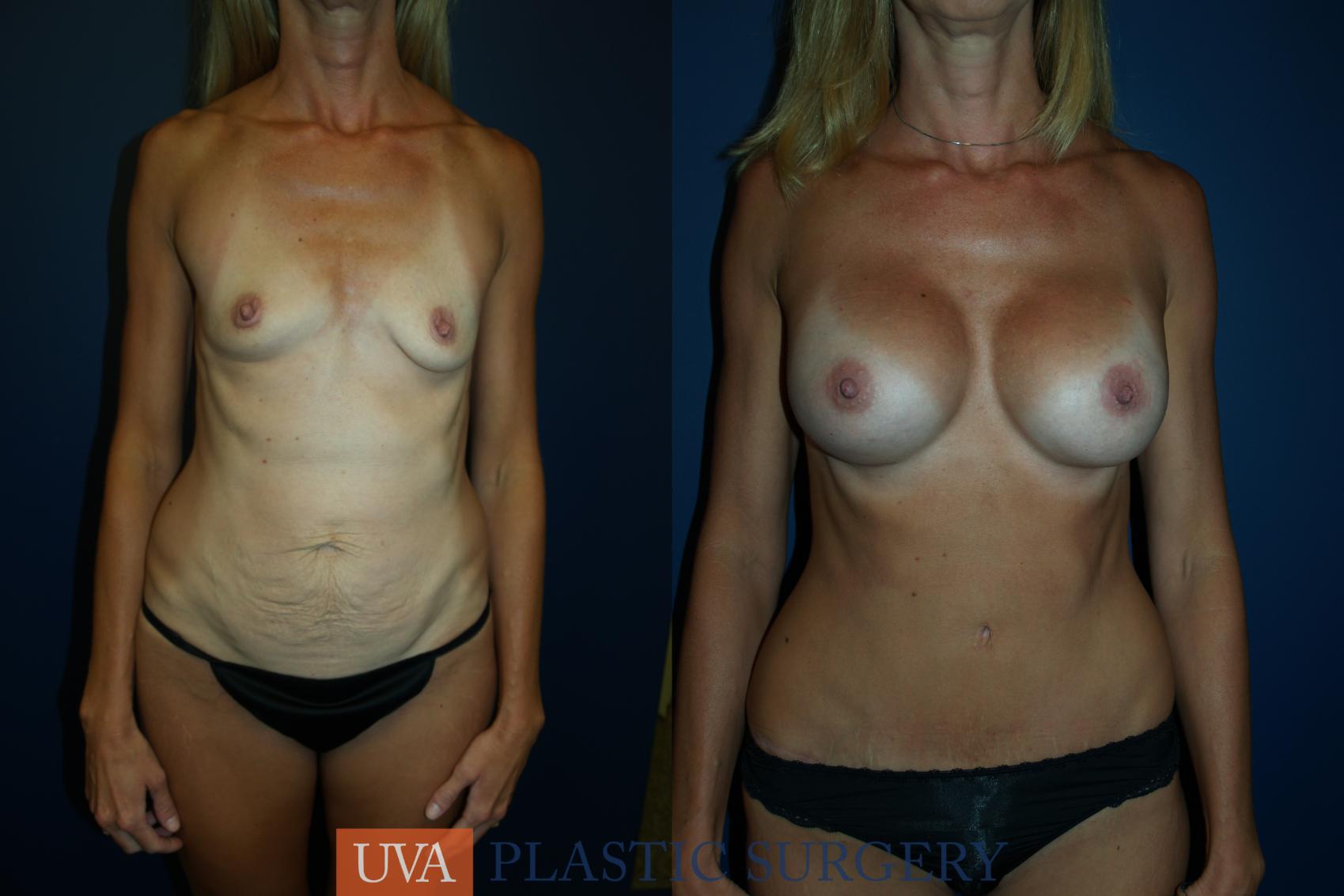 Before & After
Case #58
39 year old healthy, active woman in Tampa Florida who was interested in Breast Augmentation and Abdominoplasty. She underwent a "Mommy Makeover" combining both a full Abdominoplasty and Bilateral Breast Augmentation with symetric smooth round 375ml Moderate + Silicone gel implants, placed subpectoral through IMF approach....
Read More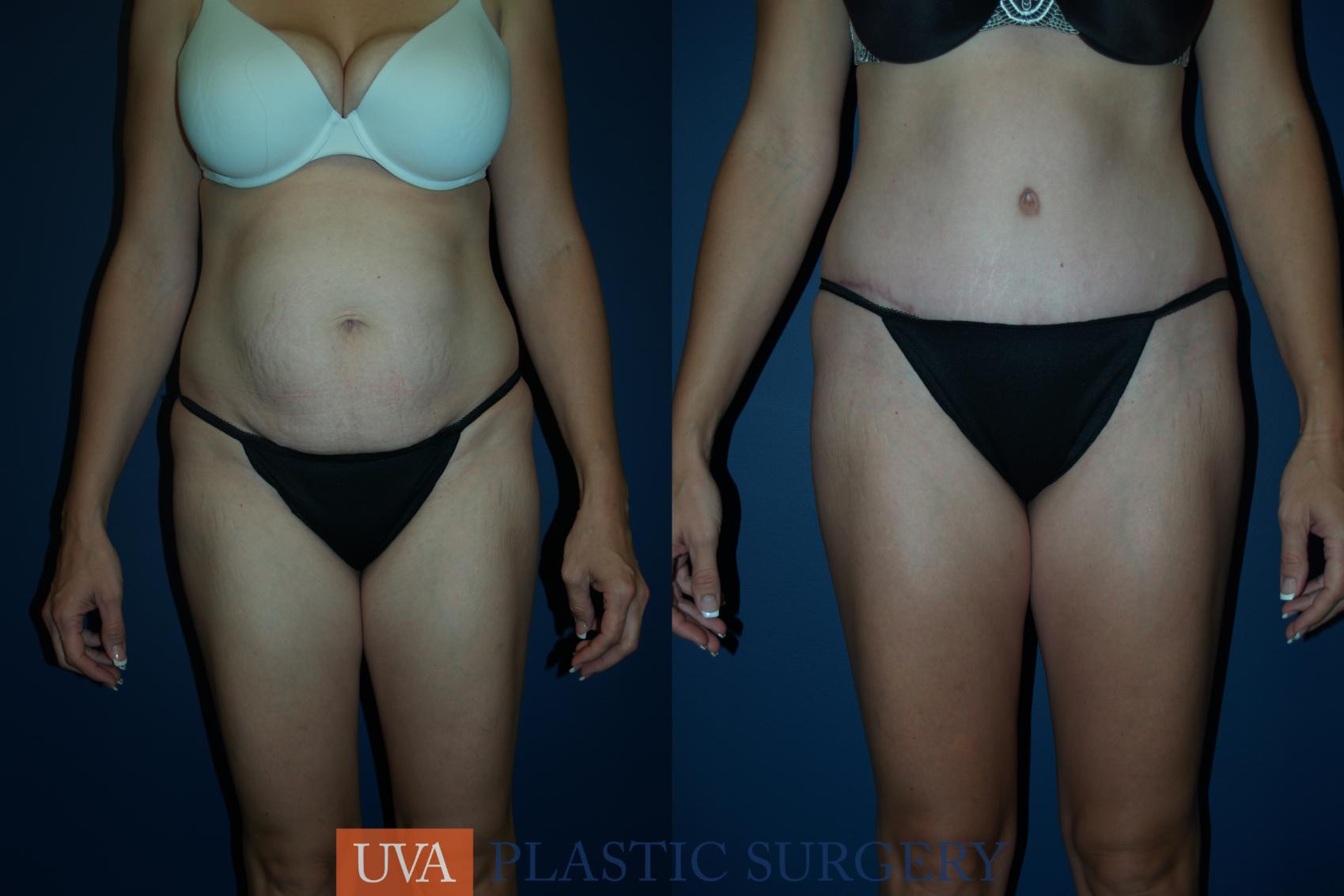 Before & After
Case #42
This woman, age 35, had 2 C-section deliveries and underwent a full tummy tuck with tightening of the underlying muscle layer. She is shown before and 3 months out from her procedure. She is very happy with her tummy tuck results and the overall care she received from UVA Plastic Surgery Faculty.
Read More
Keep in mind that each patient is unique and your results may vary.
Who is a candidate for a mommy makeover?
A mommy makeover is well-suited to women who meet the following criteria:
In good health physically and emotionally
At or near their goal weight
Do not intend to have more children
Have multiple areas they'd like to improve
In addition to enhancing their appearance and confidence, mommy makeover patients appreciate a variety of advantages over having the procedures performed separately. These advantages include limited exposure to anesthetic, reduced cost, and needing just a single recovery period.
Which procedures are included in a mommy makeover?
Our plastic surgeons personalize mommy makeovers to the unique anatomy and aesthetic goals of each patient. These procedures typically include a combination of the following options:
Tummy tuck tightens abdominal skin and muscles that were stretched by the growing baby. Because the belly is usually affected by pregnancy, the tummy tuck is the most common procedure chosen for a mommy makeover.
Liposuction is often performed as part of a tummy tuck to remove areas of fat. It can also restore firm contours to the waist, hips, thighs, and other areas.
Breast enhancement procedures, such as breast augmentation, breast lift, breast lift with implants, and breast reduction, improve the size and shape of the breasts after pregnancy and breastfeeding. The areolae (circle of pigmented skin around the nipples) may also be reshaped.
During the consultation, the surgeon performs a thorough physical exam and talks with the patient about the specific concerns she has about her body. The surgeon will then create a surgical plan designed to safely provide the desired improvements.
Mommy Makeover Surgeons
At UVA Plastic Surgery, our highly regarded surgeons offer expertise and personalized care for a rewarding patient experience.
Meet Our Surgeons
Meet Our Surgeons
How is a mommy makeover performed?
Our surgeons typically perform mommy makeovers as outpatient surgery using general anesthetic. The surgical details vary with the procedures performed. During surgery, anatomic nerve blocks and advanced, non-narcotic IV medications are used to minimize postoperative pain.
What can I expect during recovery?
Recovery after mommy makeover surgery varies widely with individual patient factors and the procedures performed. To avoid complications and facilitate the healing process, it is important to have an adult in the home to care for babies and small children for at least the first week.
How long does it take to recover from a mommy makeover?
In general, patients need to take off about 2 weeks from work after mommy makeover surgery. While most moms don't have time available for separate recoveries, mommy makeover patients attain multiple improvements with a single recovery period.
Are you ready to find out more?
To meet with one of the world-class plastic surgeons at UVA Plastic Surgery in Charlottesville or Fishersville, request a consultation using our online form or call (434) 924-1234 for an appointment.