Samantha Mason, PA-C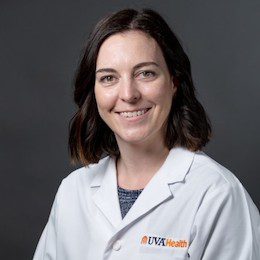 Samantha Mason, PA-C, is a physician assistant who cares for patients having plastic surgery or cosmetic injection. She also has expertise in wound care and laceration repair.
Samantha earned her master's degree in physician assistant studies from Shenandoah University. She is certified through the National Commission on Certification of Physician Assistants.
Before joining UVA in 2021, she worked for Valley Health Urgent Care in Winchester, Virginia. After earning an exercise and sports medicine degree from the University of Georgia, she worked as an emergency medical technician (EMT) in Cleveland, Ohio. She also studied and later taught phlebotomy courses at the local community college in Cleveland.
She shares, "I love medicine and understanding how such complicated systems work together to perform the simplest tasks, like smiling. I also love interacting with people. Being a PA is the best marriage of those two loves."
She adds, "I am a down-to-earth provider with the goals of getting to know you and helping you reach your goals through the use of medicine."
The oldest of three children, Samantha grew up in different parts of the U.S., while enjoying sports and music. "We moved every two to three years to a different state for my dad's job," she shares. "I was a swimmer from infancy through high school. I also played viola in orchestra through school."
Education & Training
Shenandoah University, 2015
Services Offered
Breast reductions
Panniculectomy
Cyst
Lipomas
Nevus
Abdominoplasty
Adult moles
Coolsculpting
Migraines
TMJ/Masseter Botox
Transgender top surgery
Expertise
AHP Certification: National Commission on Certification of Physician Assistants
Clinical Practice: Plastic Surgery