Breast Lift
The experienced, board-certified plastic surgeons at UVA Plastic Surgery perform breast lift surgery in Charlottesville and Fishersville, VA, to help women have firmer, shapelier breasts and renewed confidence.
Pregnancy, breastfeeding, weight changes, and even the natural aging process impact the shape of the breasts for many women. Mastopexy, often called a breast lift, is a surgical procedure that raises and reshapes sagging, deflated breasts and restores a more youthful nipple position.
View Before & After Photos
Who is a candidate for breast lift surgery?
Healthy women who are at a stable weight visit us for breast lift surgery from Richmond and Harrisonburg, VA, Washington, D.C., and nearby communities for many personal reasons, which typically include one or more of the following:
Elevating lax breasts higher on the chest
Reshaping elongated breasts
Reducing the size of enlarged areolas
Repositioning nipples that point downward
Achieving symmetry between the breasts
Women who are more concerned with having fuller breasts may be candidates for a breast augmentation instead of a breast lift. Many choose to have both procedures combined for enhanced shape and size. Mommy makeovers are popular with women who want to improve the appearance of their breasts and body with a single recovery period.

A Guide To

Breast Augmentation

Ready to discover how breast augmentation can reshape your body? Get the facts about the procedure when you download our free eBook, A Guide to Breast Augmentation. The guide offers extensive information about breast augmentation, including what to expect before, during, and after the surgery. You'll also find answers to your most pressing breast augmentation questions and a helpful surgery prep list.

Submit the form at right to receive a link to our free eBook.
Fields marked * are required.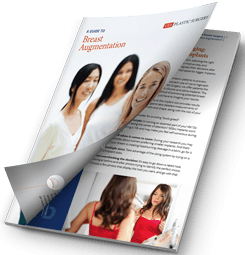 What are the different types of breast lifts?
Each breast lift procedure is based on one of the following techniques, named for the shape of the incision. These techniques provide from minimal to significant correction:
"Donut" lift (Benelli lift) involves an incision that encircles the areola in a donut shape. This technique is appropriate for patients with minimal ptosis (sagging). It can lift and reshape the nipples and reduce a limited about of skin.
"Lollipop" lift (vertical breast lift) is performed with an incision that traces the areola and then runs vertically from the lower edge of the areola down to the breast crease. This is the most commonly used technique.
"Anchor" lift (full breast lift) provides maximum correction. This technique extends the lollipop lift by including an incision along the breast crease. The anchor lift is suited for patients with large breasts and significant sagging.
How is breast lift surgery performed?
Our surgeons usually perform breast lift surgery as an outpatient procedure using either local anesthetic with IV sedation or general anesthetic. Incisions are tailored to the unique needs of each patient accounting for the degree of laxity in the skin and amount of breast tissue. In addition to tightening the breast skin, the surgeon repositions the areolae (and reshapes them if necessary), then closes the incisions with sutures and surgical tape. After a brief observation period, patients are usually cleared to return home the same day in the care of an adult friend or family member.
Breast Lift Surgeons
At UVA Plastic Surgery, our highly regarded surgeons offer expertise and personalized care for a rewarding patient experience.
Meet Our Surgeons
Meet Our Surgeons
What can I expect after breast lift surgery?
After surgery, it is normal to experience swelling, bruising, and numbness in parts of the breasts for the first few weeks. Prescription pain medication may be helpful for discomfort during the first few days. Your surgeon will provide you with specific recovery instructions, which will include the following:
Avoid lifting anything over your head for 3 to 4 weeks.
Strenuous exercise and activity should be postponed for 3 to 4 weeks after surgery.
Expect scars to gradually fade from pink to white over the following months to 1 year.
How long does it take to recover from a breast lift?
Patients are typically ready to return to non-physical work and normal activities within 1 week.
Are you ready to find out more?
To meet with one of the world-class plastic surgeons at UVA Plastic Surgery in Charlottesville or Fishersville, request a consultation using our online form or call (434) 924-1234 for an appointment.