Male Breast Reduction
The world-class plastic surgeons at UVA Plastic Surgery provide solutions, discretion, and support for the men from Richmond, Roanoke, and surrounding areas they see for male breast reduction in Charlottesville and Fishersville. Enlarged male breasts and nipples, often due to a medical condition called gynecomastia, can make men feel embarrassed and self-conscious with or without a shirt on.
Male Breast Reduction (Gynecomastia)
Before & After Photos

Before & After
Case #77
This patient had mild to moderate gynecomastia (male breast tissue). He is shown 6 months from his surgery and very happy with the results.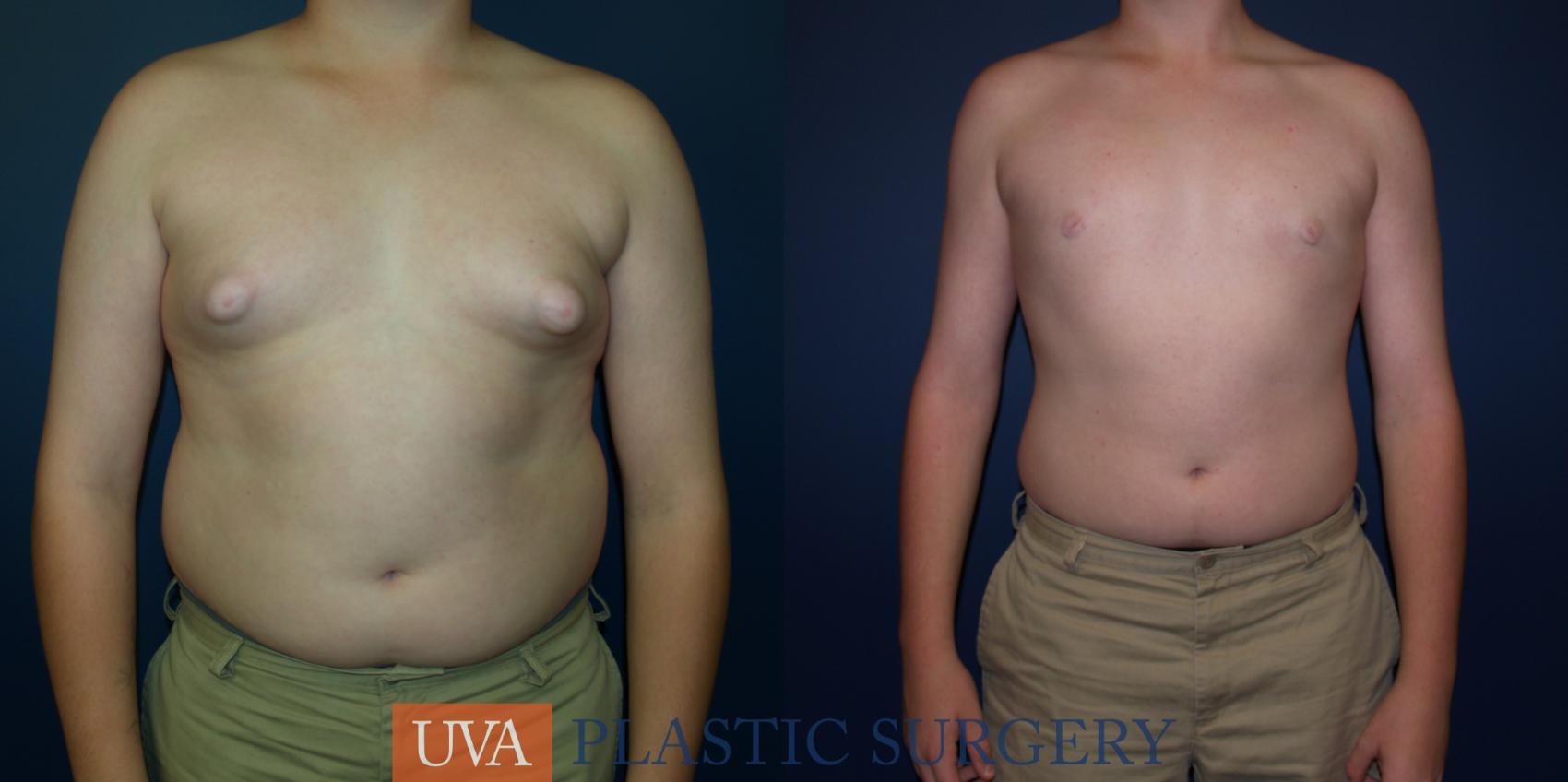 Before & After
Case #65
This 14 year old boy struggled with severe gynecomastia (male breast tissue) with associated breast ptosis (droop) for approximately 3 years before he sought treatment by UVA Plastic Surgery Faculty. Although he was very active in baseball and other sports he was very self-conscious and tried not to remove his shirts in public. He...
Read More
Keep in mind that each patient is unique and your results may vary.
Who is a candidate for male breast reduction?
The best candidates for male breast reduction are men, and even adolescents, who are bothered by a feminine appearance in one or both breasts. Because obesity and certain drugs can enlarge the male breasts in addition to gynecomastia, patients should be at a healthy, stable weight and talk with their surgeon about any substances they are taking. Patients choose this procedure for a variety of personal reasons that may include:
Attaining firm, masculine chest contours
Reducing enlarged areolae
Achieving symmetry between the breasts
Alleviating self-consciousness when shirtless and when wearing thin, fitted shirts
Male Breast Reduction Surgeons
At UVA Plastic Surgery, our highly regarded surgeons offer expertise and personalized care for a rewarding patient experience.
Meet Our Surgeons
Meet Our Surgeons
How is male breast reduction performed?
Male breast reduction is typically performed as outpatient surgery using local anesthetic with IV sedation or general anesthetic. Our plastic surgeons perform the procedure by surgically removing excess tissue, fat, and skin taking care to minimize and conceal scarring. Liposuction may be used to remove fat instead of or in addition to surgical excision.
What can I expect after gynecomastia surgery?
After surgery, it is normal to experience some swelling and bruising of the chest for the first few weeks or longer. To prevent scars from becoming darkened, patients should wear a shirt for the first 6 weeks, or as directed, when exposed to the sun.
How long does it take to recover from male breast reduction?
In most cases, patients are ready to return to non-strenuous work within a week of surgery, and jobs that require heavy lifting within 2 to 3 weeks.
Are you ready to find out more?
To meet with one of the world-class plastic surgeons at UVA Plastic Surgery in Charlottesville or Fishersville, request a consultation using our online form or call (434) 924-1234 for an appointment.