Brent R. DeGeorge Jr., MD, PhD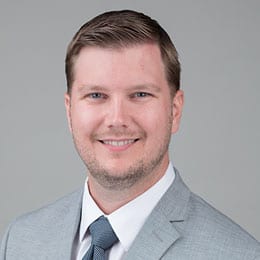 Brent DeGeorge Jr., MD, PhD, is a highly qualified plastic surgeon at UVA Plastic Surgery in Charlottesville, VA. He has received numerous honors for his medical achievements and has extensive experience in the field of plastic surgery specializing in procedures of the hand and upper extremity.
Education & Training
College of William and Mary, Bachelor of Science, Neuroscience (graduated summa cum laude)
Jefferson Medical College-Philadelphia, Medical Doctorate
Thomas Jefferson University-Philadelphia, PhD, Molecular Pharmacology and Structural Biology
University of Virginia, Residency, Plastic Surgery (2010); Chief Resident (2015)
Mayo Clinic, Department of Orthopedic Surgery, Fellowship, Hand Surgery
Active in Medical Research
Dr. DeGeorge's research interests include:
Articular cartilage repair and regeneration techniques
Patient-reported outcomes
Allograft implementations in tendons, cartilage, and dermis
Dr. DeGeorge has presented his work at numerous medical meetings, including the American Society for Surgery of the Hand and the American Association of Hand Surgery. He has received several awards for his research and academic excellence, including:
Raymond F. Morgan, MD Resident Research Award
Southeastern Society of Plastic and Reconstructive Surgeons Glancy Outstanding Research Award
Special Interests
After completing his fellowship at the Mayo Clinic, Dr. DeGeorge returned to the University of Virginia to join the faculty at the UVA Hand Center. His areas of expertise include:
Brachial plexus and peripheral nerve surgery
Hand, wrist, and forearm reconstruction following trauma
Microsurgery and arthroscopy of the upper extremity
Services Offered
Professional Memberships
Mayo Hand Club
Virginia Society of Plastic Surgeons
American Society for Surgery of the Hand (candidate member)
Southeastern Society of Plastic Surgeons (candidate member)
Q & A
What led you to become a doctor?
My brother was devastatingly injured in a motorcycle accident and sustained large surface-area burns on his body. I credit the plastic surgeons who cared for him as the impetus for my career. They made him whole again through multiple reconstructive procedures, and it has been my goal to care for those in need in the same way.
Why did you choose your areas of specialty?
I specialize in surgery of the hand and upper extremity with a focus on microvascular surgery, vascularized bone grafting, and reconstruction following brachial plexus injuries. The complexity of the hand and upper extremity is what drew me to the field initially; however, seeing patients with devastating injuries recover and return to work and the activities that give them meaning inspires me to develop new and innovative solutions to challenging hand and wrist problems. I am passionate about surgery for the brachial plexus as these injuries are life altering, and engineering solutions that enhance the lives of these patients are meaningful. As one of the founding fathers of hand surgery, Sterling Bunnell, stated so eloquently, "To someone who has nothing, a little is a lot."
Why did you decide to join UVA?
UVA is home for me. I trained in this program as a resident. The environment offers an unparalleled collaboration between surgical subspecialties. As a surgeon-scientist, UVA has offered me the ability to innovate in the laboratory and develop novel techniques and solutions that we can translate into clinical practice with improved functional outcomes for our patients.
How do you enjoy spending your time outside of UVA?
I participate in overseas missions to care for patients with burns or congenital anomalies or trauma to the hand and upper extremity who do not have access to adequate medical resources.
When I'm home, I like to spend as much time as possible with my wife and 3 children. I enjoy cooking and am presently building a clay oven to address my passion for pizza. I love music and play drums and guitar.
To learn more about Dr. DeGeorge and UVA Plastic Surgery, request a consultation online or call (434) 924-1234 for an appointment.